Thank you for visiting the John the Baptist Catholic Primary School website.  Our school is passionate in providing a holistic education for every student across all domains: academic, social, emotional, spiritual and physical.
Our team of classroom and specialist teachers have a deep knowledge and understanding of each child in the school, and design learning experiences that are developmentally appropriate for all, no matter what their stage of learning. Children are exposed to styles of learning that allow them to think creatively and critically.
Learning at John the Baptist is engaging, exciting and most of all, fun!. At any given time, children may be involved in foundational literacy and numeracy learning, or be immersed in the foundations of their Catholic faith, or be actively involved in sport, art, music (including a band) and drama. As a Newman accredited school, a wide variety of enrichment opportunities are provided to challenge students and extend their thinking.

At John the Baptist Catholic Primary, each child wears a symbol of the rainbow as inspiration for the joy and hope of the risen Christ. We commit to planning, implementing and maintaining a safe, supportive and protective school community that promotes student wellbeing, safety and pastoral care, in a faith filled environment where each child can be nurtured to succeed in all aspects of learning.
I look forward to meeting you and your child soon.

Mr Brendan O'Connor
Principal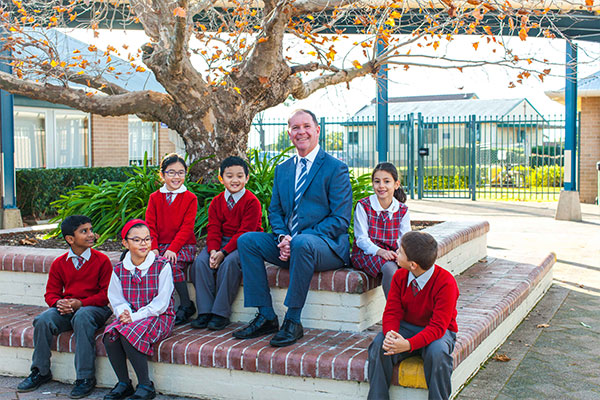 Proudly Part of the Community of Sydney Catholic Schools
Our school is part of a system of over 150 low-fee Catholic schools in the Sydney Archdiocese.
Sydney Catholic Schools are thriving Catholic communities that ignite a love of Christ through excellent teaching and learning to empower students to reach their full potential.